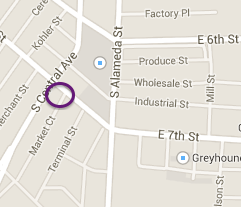 The Old Market is the largest and arguably easiest to shop wholesale market.  Enter on Market court or from Central St.
Finding a parking space here can be hard.  As always, obey security guards and watchout maniac forklift drivers!
You can find everything and anything here.
Best vegetable selection is in the northwest corner
Best dried fruit and date selection is in the northeast corner
Best coconut vendor is in the southwest corner
Best persimmon vendor (seasonal) is on the west side, near the southwest corner
Gutter Cherimoya can often be found abandonded near parking spaces on the south side
Ad blocker interference detected!
Wikia is a free-to-use site that makes money from advertising. We have a modified experience for viewers using ad blockers

Wikia is not accessible if you've made further modifications. Remove the custom ad blocker rule(s) and the page will load as expected.