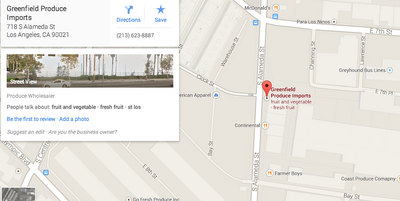 Greenfield Produce Imports 
718 S Alameda St




Los Angeles, CA 90021‎




(213) 623-8887



Open Mon-Sat 6:00am(?) to 2:00pm
Greenfield is known for their hit-or-miss selection of exotic Asian fruits.  It is one of the best places in LA to get jackfruit and rambutan.  Selection, price and quality varies greatly from week to week but it's always worth it to at least stop by because you never know what you may find.
Shopping Tips
Edit
UPDATE: The best place to park is on the left after you come through the gate.  The spots marked for Greenfield are for employees, not customers.  DO NOT park in front of the actual storefront, you will be in the way of trucks coming and going.
All prices are quoted by Mr. Lee, an old skinny Asian man who sits (and often sleeps) in a chair by the front.  Expect to pay between $0.70-$0.80/lb for jackfruit, $0.45-50/lb or $5ea if ripe/black spots. If the jackfruit is moldy or looks bad, do not be afraid to make a lowball offer.  People have gotten them for $2-$7 each if they are very overripe.
Ad blocker interference detected!
Wikia is a free-to-use site that makes money from advertising. We have a modified experience for viewers using ad blockers

Wikia is not accessible if you've made further modifications. Remove the custom ad blocker rule(s) and the page will load as expected.